RK New Design White Portable Smart Stage for sale
time:2017-07-21
editor:R-grafen
RK event staging are available across all over the world. We regularly exports stage equipment to US, UK, EU, Australia, Canada, Singapore, etc. We stock Litedeck event staging, which is a versatile modular event staging solution which is very versatile – it allows us to create a strong and flexible raised platform at your event. We will work with you to plan the size, shape and height of your stage.
It can be used indoor or outdoor and we will fully plan your stage and structure - we can install it on grass surfaces and solid surfaces. It can be used for small indoor events right up to large scale outdoor concerts.
Our Staging can be customised to meet your requirements including carpetting, handrails, steps, finishes, backdrops etc. We traditionally wrap stages in black casement but we work with your ideas.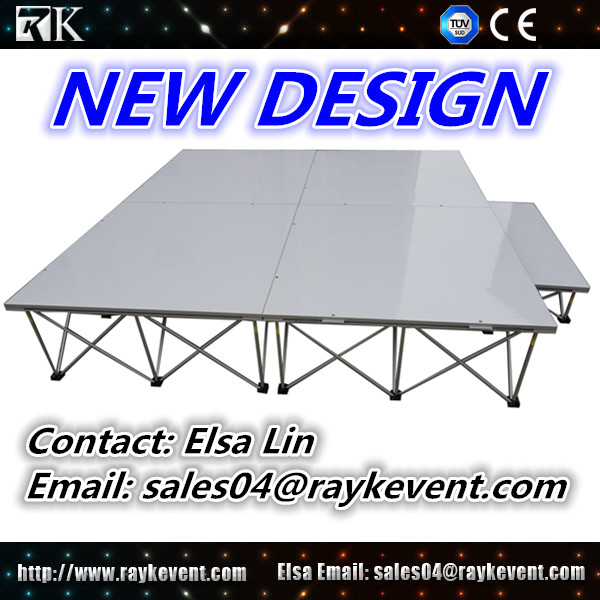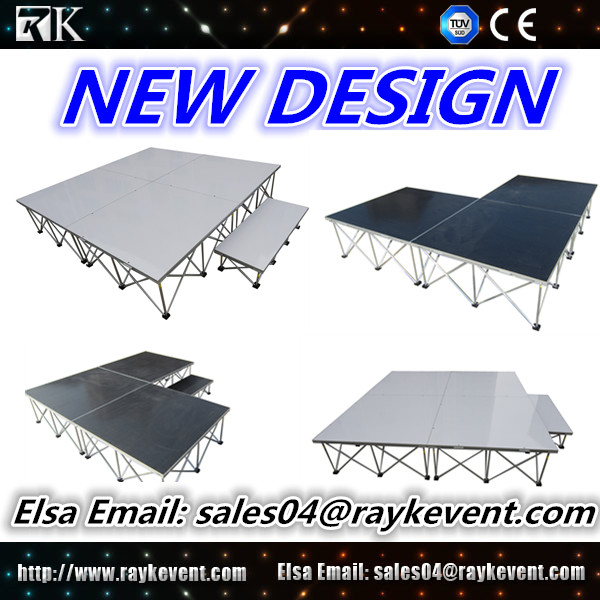 RK Smart Description:
Stage Panel (plywood): 1M*1M, 1M*2M, 4'*4', 4'*8', etc.

Stage Leg(aluminum): adjustable 0.4M-0.6M, 0.6M-1.0M, 0.8M-1.2M, 1M-1.5M, etc.

Surface: Carpet finish, Industrial finish, Tuffcoat finish

Load Capacity: 1000KG/sq.m

Use: Concert event, Wedding, School Performance, Party, Band Show, Catwalk Show, etc.
Besides, we offer a variety of heights and dimensions stage as well as various sizes of stage stairs, skirting and guard rails. We also offer access ramps and rental stage barricades. For stage panel, all are made with high quality plywood and it is very easy to assemble. RK Portable Stage is a professional stage manufacturer in China. You'll find the latest innovations from our company. If you don't have any idea for the stage dimensions, feel free to contact Elsa (sales04@raykevent.com) today. We will provide you with a best solution for your coming event and leave you a wonderful event day.