RK wholesale dance floor portable dance floor
time:2017-11-16
editor:R-grafen
Rack In The Cases Limited is a professional manufacturer for dance floor ,located in Shenzhen China, they have many different kind of dance floor , plywood dance floor , PVC dance floor , Starlight dance floor, they are widely used in many different place and occasion. Such as wedding hall or tent , bar, show place , hotel, and so on.

RK Wood Grain Dance floor material is high quality wood and aluminum alloy. Durable and rust resistant. Modular system make it easy to install, it can be assembled in a fast time. Black, white, and walnut color can be chose.


According to customers requirement , RK researched and developed many kind of different dance floor in type and color, to satisfy customers' need. For Plywood dance floor ,there are two kind of connect way dance floor ,one is the classical Screw connection dance floor, it's very safety and stable due to many screws connection to each dance floor . another is the hole-less dance floor, without screw connection, instead of and inner lock ,and with small clips to consolidate, made this kind of dance floor not only have a strong connection but also have a very good look, no screw hole in the surface. For PVC dance floor and Starlight dance floor, RK have did much efforts and get much achievement too , modern design , convenient installing, and excellent using experience .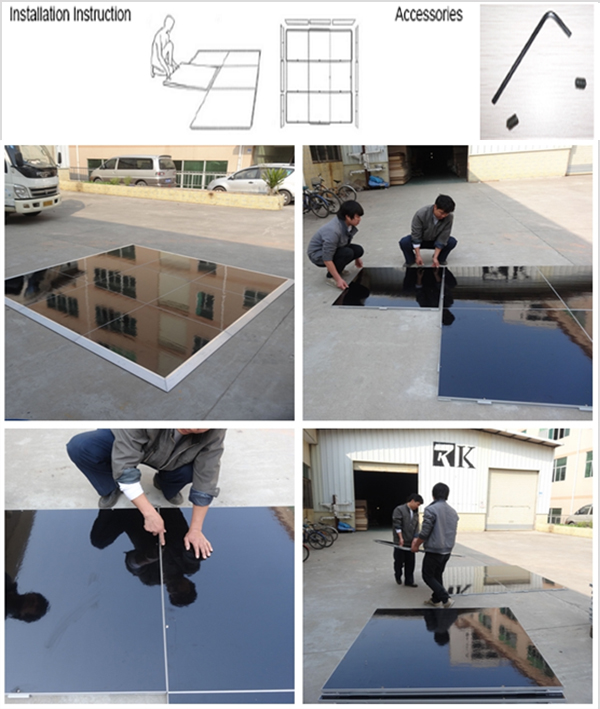 Rack In The Cases Limited in this industrial for more than 15 years, our products have very good quality due to the strict quality control , our principles is to do the best products , and to let all our customers be satisfied. If you are looking for a good supplier for events products business partner, please feel free to contact us.

Any questions or need please feel free to contact me.
Skype: sd80011 Whatsapp : +8618575517531
Email:sales03@raykevent.com