Raised Portable Stage Systems From Rock in the Case
time:2018-02-23
editor:R-grafen
A lightweight aluminum stage system for Bands EVENT, Choirs EVENT, DJ's EVENT, Concerts EVENT & More other EVENT.
Usage range - Simply unfold your riser legs and attach the carpeted platform deck. Then add any stairs, skirting, and guard rails you may require, and you are ready for concerts, performances, special events, graduations, meetings, speeches, rallies, banquets, weddings, dances, exhibits, displays, demonstrations,trade shows, and more!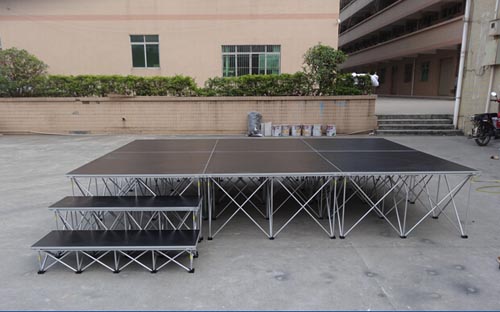 Features
1, Easiest system to assemble and dismantle
2, Lightweight and compact for transport
3, Endless configurations
4, Full range of accessories available
5, Collapsible for easy storage
We are just thrilled with the elegance of design, ease of assembly and attention to detail in every regard. We couldn't be more pleased.
RK staging may be a lightweight stage, but it can support up to 750kg per 4ft×4ft deck RK staging is suitable for indoor and outdoor applications.
RK portable stage is a completely modular platform system. Standard decks are 4ft×4ft and can be combined in any configuration with risers of varying heights. Add stage accessories such as stairs, guardrails, and skirting to finish your custom stage. With RK staging, the possibilities are endless.
Rk staging is the easiest modular staging system to assemble, connect, break down, and transport. Simply unfold the risers, line up the locking mechanisms on the riser corners with the corresponding holes on the platform, and lock with the included hex key. Once your platforms are assembled, they connect to each other via hidden locks using the same hex key.
Completing your RK portable staging system with guard rails, steps, skirting, and travel and storage cases. See the complete list of options and stage accessories.
RK staging is available in simple-to-order, all-in-one packaged staging kits and stair kits or design your own staging system by ordering platforms and accessories.