Professional Event Truss Manufacturer
time:2018-03-07
editor:R-grafen
RK is the professional pipe and drape manufacturer for most kinds event equipment: portable stage for audio visual system, pipe draping for wedding party backdrop, wooden dance floor(Pixel LED/GRB dance floor) for event decor, led curtain, cable ramp, crowd barrier, etc. We also has truss system. Truss as essential part for the concert, it's also functional as DJ truss, roof truss, bar truss, exhibition truss structure, Liner array and speaker top roof, whatever indoor or outdoor activities. Truss system has bolt truss and spigot truss. 2 kinds of different connected way and size truss: 290×290mm, 400×400mm, 220×220mm, 520×520mm also 300×300mm, 400×400mm, 500×600mm, 520mm×760mm can totally fit different flavour clients.
Here is one of our clients' project: heart structure Spigot Truss Tower System 3×3m, can you recognize all components within this structure? 220mm×220mm pillar truss, bases, corner truss, 'love' shape truss and some smaller accessories. In this structure, Client's usage is very important, if I say only for several head lights hanging, then use some lightweight tube, it is no problem. But if you would like to hang more heavier items, the tube should be thicker and size increase accordingly.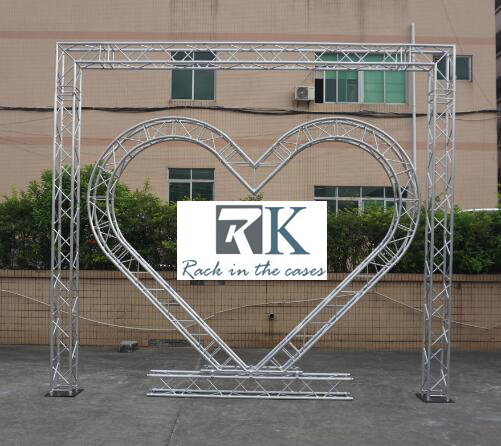 Would you like to have the truss at your own like this? You just need to tell us your size and event, we can come with creative idea and build amazing backdrop for you. Own supplier who has professional service and advanced manufacture technology, believe that your event would be more prosperous. Please contact Demi immediately.
Contact person: Demi
Skype: sales13011
Email: sales01@raykevent.com
WhatsApp: +86 15013704348