Pipe Drape Kits Base Plate Save Your Money - 40% Off
time:2018-03-30
editor:R-grafen
Pipe and drape kits is the basic component of wedding backdrop, party decoration, it is very hot among our clients. But choosing a reliable and professional supplier always not a easy thing.
A Advertising episode: RK now has base plate at big promotion to celebrate the coming event season! 450×450×5mm (18inch×18inch×3/16inch) sell at only USD12.90/piece, compare with the original price USD20.09, we sell you can save totally USD40%. Contact Demi (sales01@raykevent.com) now!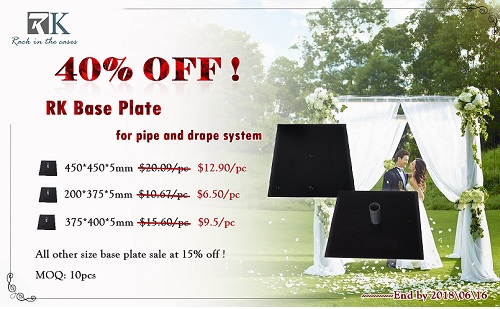 Pipe drape kits can be also divided to 2 parts. Pipe is aluminum poles, drape own various material fabric and colors. As support system, pipe including 2pcs upright,1 crossbar and 2pcs base.
Our pipe has different size for your chose, take upright for example: For meet different meed of events, we have 2-section (3-5ft, 4-7ft,5-8ft, 6-10ft, 7-12ft, 8-14ft, 9-16ft, etc.) and 3-section (5' - 11', 6' - 14', 7' - 17', 8' - 20'). We can also custom for you.
For the base, since used in different backdrop, we have 5mm, 8mm and 10mm thickness available; The size we have 450×450, 500×500, 600×600, also we have some irregular size customized for clients. Normally, For height lower than 14ft, we may recommend you use 450×450×5mm(or 8mm), 500×500×5mm, 600×600×5mm;The reason of we chose bigger and thicker base used in higher event is that higher pipe drape system requires enough capacity base to support especially in sandy area.
During use, some clients may think that base is too heavy to hang it, and some may complaint that item takes much space. You do not need to worry these issues, RK now has base processing: Stacking Slots and Handling. Make handle on the base, you can hang it up easily, stacking slot can save little space, you can Stacked in the corner of the wall.
Own supplier who has professional service and advanced manufacture technology, believe that your event would be more prosperous. Please contact Demi immediately.
Contact person: Demi
Skype: sales13011
Email: sales01@raykevent.com
WhatsApp: +86 15013704348