Customized Aluminum Stage
time:2018-04-03
editor:R-grafen
Stage is now very common to be used in all kinds of events, while for different type of activities, how will you chose yours correct one?
Here are some tips:
No. 1: An active site. You should familiar to the site: Length x width x height.
No.2: Calculate the Item needed. As you have idea of how many people will be join in, you are well acquainted with all the items you need to build. For example, a small concert for 50 audience, the stage should be 4×4m(4×5m) at least, then you just need to use 16pcs-20pcs stage panel to set up.
No.3: Chose the correct event item. When you use stage in sandy area, you are expected to use more stronger platform. And item used in indoor event, we would chose lower height stage to match.
Here is the our one type of stage, you may notice that we use different component shape, square, triangle. Our client would like to use this stage in the comprehensive hall events. Due to the special design of hall, we customized the stage for him.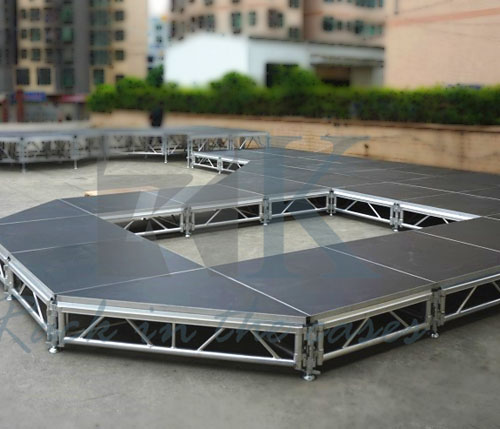 Aluminum stage basic set is stage panel+ legs+ brace+base. Stage size in 1×1m, 1.22×1.22m, 1×2m, 1.22×2.44m, height range from 0.4m~0.5m~0.6m, 0.6m~0.8m~1.0m to 1.5m~1.8m~2.0m. You just need to tell us your event and the desired stage size, we'll set up the amazing project for you.
To own your special portable stage? We can help you, please contact Demi (sales01@raykevent.com) now. RK own advanced manufacturing technology, and has various event items: pipe drape, dance floor, portable stage, crowd barrier, cable ramp, truss roof system, pixel star curtain, etc., totally can fit your need and make fantastic projects for you.
Still annoying cannot finding professional advise for your event, please contact Demi :
Email: sales01@raykevent.com
Tell: +86 15013704348
Skype: sales13011
www.raykevent.com