Stage Curtain Track Aluminum 4m×6m
time:2018-04-27
editor:R-grafen
Hi everybody, what's new today? We may recommend motor stage curtain track to you today. With wide application for the theaters, meeting room, banquet hall, ballroom, hotel, etc. Aluminum stage curtain track is play more and more essential part in the event decoration backdrop. For the motorized curtain tack, we provide aluminum curtain track and curtain stage system to you, the difference between these 2 kinds of track system is the hanging way.
The below picture is the aluminum stage curtain rail project from one AU client, since they would like to use curtain for the outdoor events, this design hanging on the stage truss is perfect for them. Wants to know more about the curtains usage, you can contact Demi(Email: sales01@raykevent.com) for ask more details.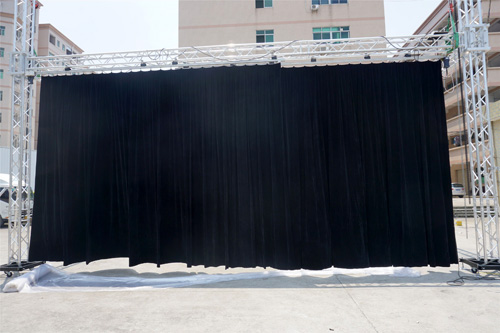 Motor curtain railing system is durable and can be equipped with constant speed motor to pull the curtain. Due to using big power motor, the rail can pull curtain of 30-200kg with max length of 30 meters at fast speed. Amazing, right? Here is the quick details for the electric curtain rail:
Curtain Weight: 30-100kg
Curtain opening speed: 0.5m/s, 0.6m/s, 0.8m/s, 1.0m/s or customized
Length scope for rail: 0-20m
Single hook: 13kg
Motor Power: 25W-200W 1300r/min
Some tips when you choosing the electric curtain rail:
Tips1: When you get to know what the event is, you need to calculate the size (Wide×High) for the railing system;
Tips2: Our max length for the stage curtain track is 20m, there maybe overlapping curtain part in the middle, you are expected to count more 1meters space for the track.
Drape for motor curtain railing system is also available, like velour(65% blackout), velvet(80% and 100% blackout). All depend on the your event type.If you are still annoying to finding professional advise for your event, please contact Demi:
Email: sales01@raykevent.com
Tell: +86 15013704348
Skype: sales13011