Which floor is best for you? Vinyl Dance Floor
time:2018-06-05
editor:R-grafen
We have 3 types of dance floor: wooden floor, vinyl dance floor(PVC dance floor), pixels flooring(LED/RGB dance floor). Which floor is best for you? Well, different flooring works in all kinds of events, we cannot tell since these floors all can full fill clients' requirement. Today we will recommend Vinyl Dance Floor to you.
With the character of lightweight, portability, easy installation, PVC dance floor( or we say plastic floor) is very hot among our clients.
Smooth polished grind surface, it works in different events: wedding, party, concert, banquet, etc. With the small size of 462×462mm panel, the full flooring scheme has flexibility to make different size: 8m×8m, 8m×10m, 10×10m, 10×12m, etc. Due to ABS plastic material of the flooring underneath, the panel is waterproof and very handy, about 1.8kg per piece. Our design is unique and stable, every panel has joints which can connect with adjoin board. Another advantage of the design is cables can get through the bottom panel. Most clients may suffering the messy equipment connections will affect the events, our design make it effective.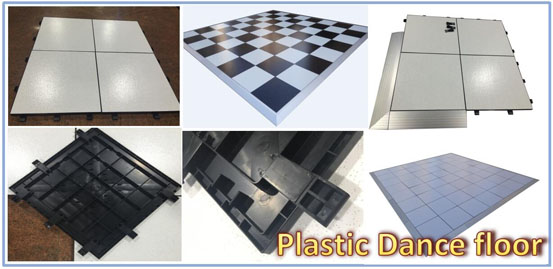 Here share with you a small walnut project, 9pieces 462×462mm flooring panels, 4pieces 800mm bevel ramp and 4pieces 693mm straight edge. Aluminum grind edge is to protect the panel from damage during using. When you build up a small project, just do not forget to count the aluminum edge on.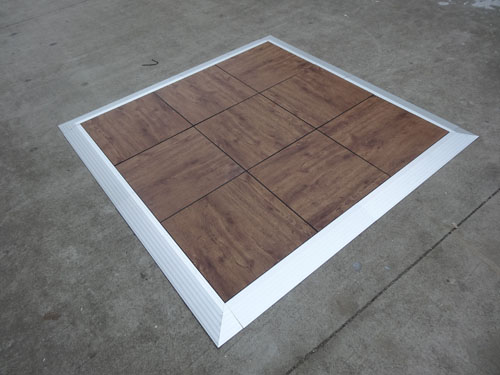 Own supplier who has professional service and advanced manufacture technology, convince that we can build marvellous event project for you. Please contact Demi immediately.
Contact person: Demi
Skype: sales13011
Email: sales01@raykevent.com
WhatsApp: +86 15013704348