used portable stage platform risers
time:2018-06-07
editor:R-grafen
Stage building is always not a easy thing. Like how big is the hall is? What materials of stage panels would be better? How high shall I make it? Do I need curtain, guardrail? etc. I bet you may think about it before the event. Wants to know more about the portable stage, you can contact Demi(Email: sales01@raykevent.com) for ask more details.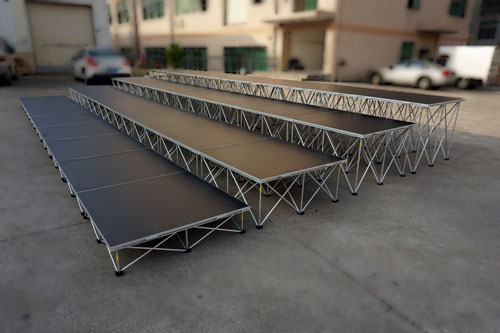 Concerts, performances, special events, graduations, meetings, speeches, rallies, banquets, weddings, dances, exhibits, displays, demonstrations,trade shows, and more! All these different types of events bringing us pleasant mood. At the same time, event planner is trying to make more creative plans/idea come true, all these ideas are relevant to stage.
Our portable smart stage is optional:
Platform material: industrial material, carpet finish and Tuffcoat finish, also plexiglass material;
Stage size: 1×1m, 1×2m, 1.22×1.22m, 0.5×1m;
Panel shape: square, round, rectangle, triangle;
Riser height: 20cm, 40cm, 60cm, 80cm, 100cm;
Other accessories: guardrail, skirt;
Packing way: we pack in carton in default, flight case and trolley available.
Set up a stage platform scheme, you can choose from these available items. Take 6×6m for example, you would like to build 6×6m with height 60cm for your concert, you need 36pcs stage panels, then count 36pcs 60cm height riser. If you think that you already done your work, we're afraid that you are wrong. For 60cm high platform, you cannot get on the stage with one step, you need to add 2 stairs: one is 20cm, one in 40cm. Guardrail & skirts also at your options.
RK also has other types of stage: beyond stage, aluminum stage, folding stage, etc. Choosing a perfect and suitable stage all depend on the your event type. If you are still annoying to finding professional advise for your event, please contact Demi:
Email: sales01@raykevent.com
Tell: +86 15013704348
Skype: sales13011