Welcome and Thanks For Coming to Our RK Exhibition
time:2018-06-11
editor:R-grafen
Welcome and Thanks For Coming to Our RK Exhibition
----Porlight prolight + sound Guangzhou 2018
Our RK company always take part in Prolight +sound exhibition in Spring and autumn every year, in this May, we taked parted in Prolight +sound exhibition too, many new and regular customers came and had a visit. This time the exhition was held in China Import & Export Fair Complex (Area A), NO.980, Xin Gang Dong Road, Guangzhou, China. And our RK booth was F12 booth, 5.1(1st Floor). the detailed time was on 10th to 13th May. We prepared all equipments samples for exhibition on the 9th may, there were samples of truss, pipe and drape, fligth case, dance floor, stage, led star curtain, and so on.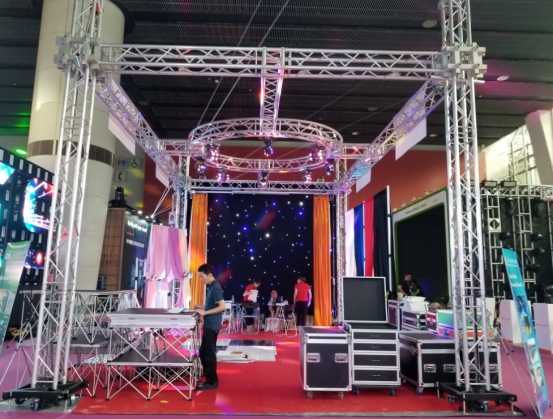 My client and friend Claudio came to this exhibition too, he is our regluar customer. In This time, he came to our both to visit more of our producs. many thanks for his coming. He is from Chile, a very good customer who purchased the stronger type pipe and drape with flight cases packing from us recently, and he is interested in dance floor ,smart stage too. In the first day morning of the exhibition, he came with a translator, and had a look for the new design hole-less dance floor and smart stage in person, he liked them very much.
The new design hole-less dance floor is different from the normal design dance floor, it is inner connect system, it is connected by some small connectors, so there is no screw hole in the surface, so it looks very good.
The Smart stage is one of our hot-sale product too, it was made up with stage platform and risers, it is very convenient to installing and uninstalling, and carry, it is much light than the other stage, such as aluminum stage, beyond stage, but it have very good loading capacity too, it is vey good use for wedding stage, and small concert, or some other small and medium everts many customers like it very much.
Welcome all the new and regular customers came to our exhibition next time.
Contact information:
Skype: sd80011
Whatsapp: +8618575517531
Email: sales03@raykevent.com