Pipe & Drape Rental
time:2018-06-22
editor:R-grafen
Pipe and drape is one of RK company's most popular rental items. It is simply the most cost effective way to transform a space. It can be used to create booth spaces, small rooms, and to hide unsightly walls.
The basics of pipe and drape
Pipe and drape is exactly what it sounds like: Drape threaded through aluminum pipes.
Drape – Available in a host of colors and fabrics; can be accessorized with tie-back sashes
Header/Horizontal – An adjustable horizontal support for the fabric to hang from
Telescoping Uprights – Unique slip-lock feature easily locks when pole is raised or lowered
Base – The foundation of pipe and drape; weight depends on style of drape
Sandbag – Recommended for taller pipe & drape configurations, depending on the size of the baseplate
A typical trade show booth consists of an 8' high back wall, and two 3' side walls. Pipe and drape can also be used to mask off unsightly areas of a venue, or to divide the space and direct traffic.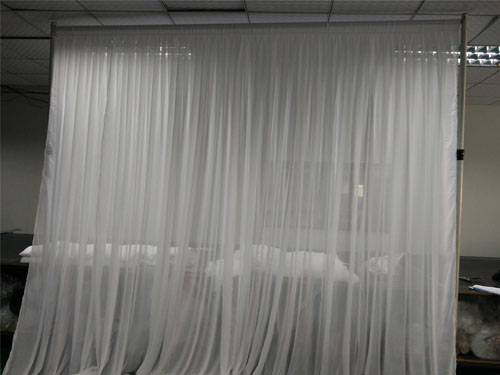 In many cases, a heavier valour pipe and drape is used on stages for productions and concerts as a back drop. Our pipe and drape comes in a wide variety of colors, and normally can be setup at 3', 8', 12', or 16' tall. We can almost always setup our pipe and drape to effectively suit any event or venue.
Pipe and Drape refers to a temporary metal structure designed to hang drapes. It is extremely popular beacuse of its many uses and it's a breeze to set up, take down, and transport. It remains the most cost effective, temporary solution to transform or define any space.
Standard components of pipe and drape are steel bases, which form the foundation of the structure; aluminum fixed or adjustable (telescoping) uprights, setting the height of the structure; telescoping (adjustable) drape supports, also known as crossbars, setting the width of the structure, and from which the drapes hang.
Pipe and Drape is an easy, fast, and portable way to create the look you need for any event.
Contact: Jack
Email: sd306@raykglobal.com
skype:event1305
Mobile:+86 15712113180