Fire Resistant Velvet Drape for Wedding
time:2018-07-03
editor:R-grafen
Drape is essential part of event decoration. Today we would like to recommend you one material: Velvet. It is a kind of woven tufted fabric and very common used in backdrop. We now have velvet drape big promotion: USD6.90/sqm (Original price: USD11.96/sqm) in 100% blackout and fire resistant. If you would like curtain in 10×10m, item cost USD690.00, you can totally save 50% . Contact Demi(sales01@raykevent.com) now for some more details.

Here are some tips for you to chose the correct backdrop of pipe and drape for your event:
Tips1: You have to make clear what the products are used for in your event first
Tips2: Select the right material. Take drape for example, chiffon would be the preference fabric for wedding because it is light and soft. For some stage performances like theater decor, we may recommend velvet, It is not only works with decorative stage but Improve the effect of stage performance. As the fireproof material and the blackout100%, velvet would be the perfect material for the stage decoration.
Tips3: Considering drape blackout and pleats. Drape with 0% and 50% also100% Fullness is very different, for daily event, we will recommend client use 2 times pleats. For various event, blackout is also not the same. Theater stage decor, we may suggest 100% or 80%, it looks better when it built up.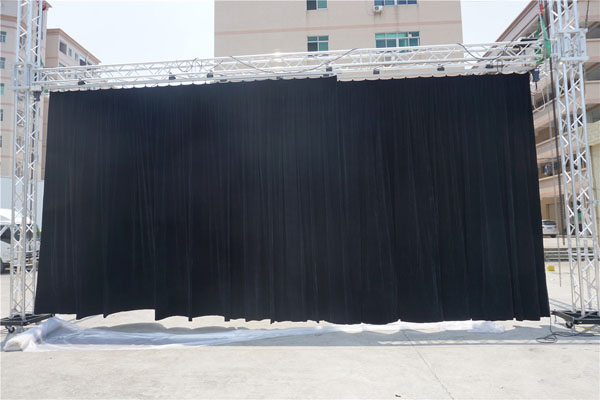 Chose a professional supplier who has professional service and advanced manufacture technology, convince that we (as a pipe and drape manufacturer) can build marvellous event project for you. Safety is priority when holding your event. Beside price, quality and some more professional advise for your decoration will be more important.
For more detailed advise for your event, Please contact Demi immediately.
Contact person: Demi
Skype: sales13011
Email: sales01@raykevent.com
WhatsApp: +86 15013704348