New LED Stage Curtain for Event
time:2018-07-05
editor:R-grafen
We received awesome LED Curtain feedback from our client today, Very beautiful, isn't it?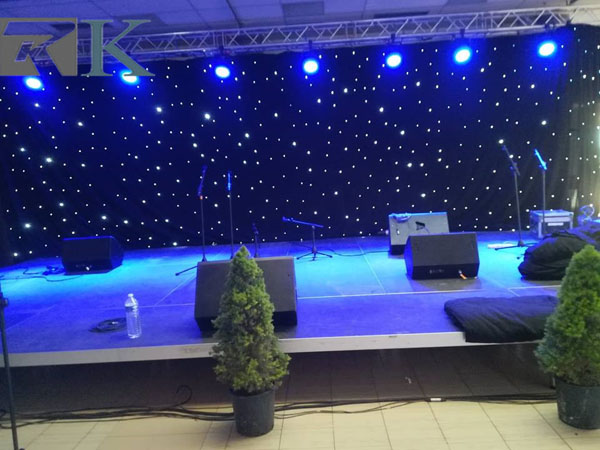 Client happily to share with me his led backdrop today, his curtain size in 10m Wide × 4m High with white lamps. Since the curtain as stage decor, choosing the LED backdrop with grommet hanging way is perfect option.
Our curtain lamps in red, green, blue, white 4 color, and there are 2 types warm and hard lights for your chose. The advantages of Lamp beads is that each lamp bead with 0.06 W, which not only guarantee good brightness but also ensure energy (100 square star curtain is 100 watts of power), the life span of lamp bead more than 50000 hours. So you do not need to worry about the working life of curtain lamp. For LED Curtains, we have (High × Wide)3×3m(10×10ft), 4×4m(14×14ft), 4×6m(14×20ft), 5×10m(16×33ft), etc. These hot size available.
To build your stage backdrop, you just need to provide us your hall wide by length, we will work out for you, how many pieces curtain shall be used, pocket or eyelet using, what is the percent of fullness for the drape, etc. All these problems, we will give you all the best solution. Wants to know more about the event backdrop? Searching for professional supplier? you can feel free to contact Demi(Email: sales01@raykevent.com) for ask more details.
If you are still annoying to finding professional advise for your event, please contact Demi:
Email: sales01@raykevent.com
Tell: +86 15013704348
Skype: sales13011