RK Stage Wholesale for indoor stage and outdoor events
time:2018-07-16
editor:R-grafen
RK for stage WHOLESALING indoor stage and outdoor mobile stage.
Our stage has several complete outdoor stage systems and festival stages for hire. These are suitable for many events.
The Aluminum stage was designed by us to fulfill a particular stage event. The need was for a quick, cost effective stage structure for events from 500 to 1000 people. For shorter events this stage can be disassemble and assemble on the same day. It is particularly suited to daytime shows.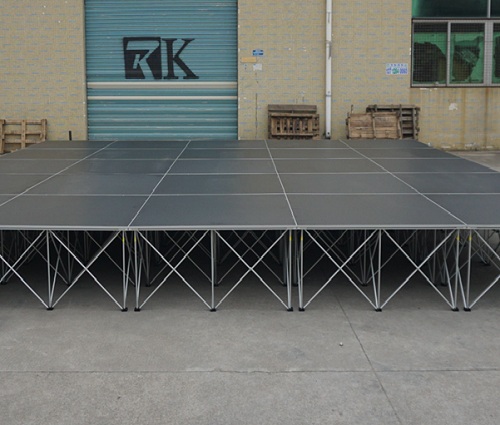 Smart stage
We have two type of smart stage, one is installing system with hxy keys, another one is installing system with lock, those two are good enough to be used in indoor and outdoor events, the smart stage is light and so convenient to be used with foldable stage riser. the advantage of load capacity by 750kg per square meter can available to most public event.
Stage Decking
Aluminum stage-We have available for selling a large quantity of modular stage decking. This is mainly 8 × 4 foot staging decks which can built into stage structures in many designs. We use aluminium stage decking which has a huge weight advantage over steel stages.
All our stages come complete with Sign off Sheets, Method Statements, Risk assessments and safe systems of work. Our stage supervisors are highly trained and work with you to ensure your event is a success. Our structures are with stage brace and guardrail, those are security to ensure stage with safety in use of public event.
We recommend size solution to you, 6×8m, 1 m height, and 5×6m, 60 cm height. The above stages mentioned are available.
For more details to inquire stage for asking price, contacting me by below information.
Jack
Email: sd306@raykglobal.com
Skype:event1305
Mobile:+86 15712113180
Site: www.raykevent.com