LED Starlit stage laminate wooden dance floor
time:2018-10-12
editor:R-grafen
1. RK LED&RGB Dance Floor
RK LED&RGB Dance Floor is unbelievable with over RGB full color and only 2.6"/3.86"(66mm/98mm) height,it is not only the safest dance floor but also one of the thinnest dance floor in the world! Led Dance Floor comes in 60cm × 60cm (2ft × 2ft) panels, which can be put together seamlessly to make any desired size dance floor. Our LED Dance Floor can be set up in shapes other than just square or rectangle. L and T shapes are possible.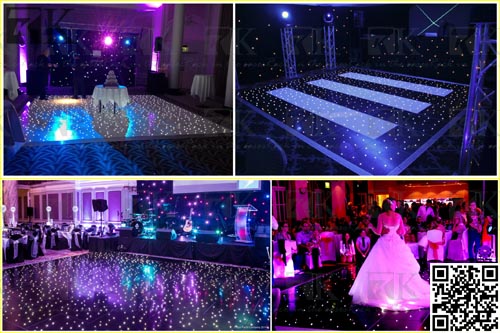 2. RK wooden dance floor
Laminate wooden dance floor with aluminum frame, through the pressure test, the experimental results showed that the strength of our wooden dancing boards was as high as 850kg.
All kinds of RK Dance Floor Perfect For:
Mobile DJ'S and Live Bands
Weddings
Themed Parties
Birthdays
Conventions
Proms and Homecomings
Sweet Sixteens and Quincentenary
Bar
Contact: Miley
Email: sales04@raykevent.com
Mobile: +86 18806657163
Skype: sd201@raykglobal.com
Any inquired are welcomed!