RK cheap portable stage portable dj stage
time:2018-11-06
editor:R-grafen
RK is a professional manufacturer for stage, located in Shenzhen China. We make many kind of stage, aluminum stage, portable stage, beyond stage and folding stage.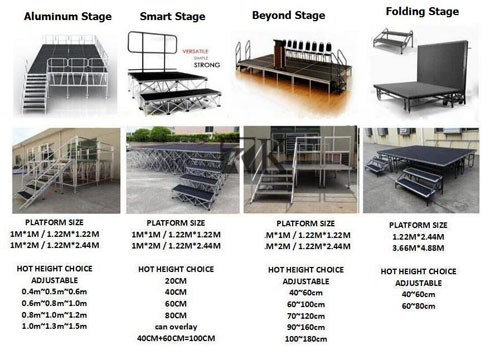 Our portable stage products are available in virtually any size. We can wrap them in a discreet black skirt, or you can leave the aluminum structure exposed and light it.
The stages are available in 1mx1m, 1m×2m, 4'×4' and 4'×8' sections, and they can be put together in any configuration. We've done square stages and modeling runways, choir risers and multi-level band stages. Whatever you need, we can do it!
Stage platforms can be built at 8", 16", 24", and 32" high, or 0.2m ,0.4m,0.6m, 0.8m, or any combination of heights. For other kind of aluminum stage products, the stage legs can be adjusted, 0.4m-0.6m, 0.6m-1.0m, 1.0m-1.5m, 1.5m-2m.
This portable stage can be rented for any entertainment need. Its uses are limited only by the imagination, fair shows, music concerts, public speakers, street dances,indoor and outdoor weddings and style shows are some of the activities that can benefit from this versatile structure.
The poartable stage products have carpet surface, non industrial material sufarce, acrylics surface can be choosed, they can make your event be great. Another important aspect is the security to band members and expensive equipment the thirty inch tall stage floor provides, they are very strong and stable.
If you need a portable stage, if you are interested in the portable stage, please feel free to contact us, more information will be sent to you soon.
Please contact Cassie
Whatsapp: +8618575517531
Email: sales03@raykevent.com