RK Aluminum Stage Frame Truss Structure lighting truss dj tr
time:2018-11-08
editor:R-grafen
RK is a professional manufacturer of stage and truss, located in Shenzhen China. We make many kind of stage and truss, here we want to introduce our truss systems for you.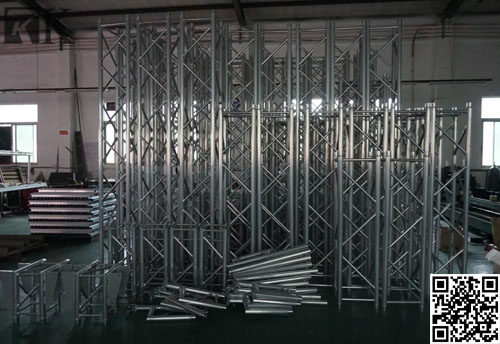 RK truss have bolt truss and spigot truss with many sizes. Our bolt truss like 300mm×300mm bolt truss, 400mm×400mm bolt truss; Our spigot truss like 290mm×290mm spigot truss, 520mm×520mm spigot truss... All our truss choose the best aluminum material 6082-T6, and with the advanced making processes, they can be used for lighting truss, dj truss, many kind of stage truss, to make your stage be colorful.
Lighting is a fundamental element in a live music performance that pulls all the factors together to set the mood and atmosphere. For this reason, how the lights are positioned on the concert event staging is crucial as it completes the overall aesthetics of your event.
However, it isn't all about deciding on where your light will be positioned. You need to know your option when you're limited as to where your fixtures can be placed. One great solution to this matter is an aluminum stage trussing. Above many other purposes, a stage truss offers support when hanging equipment in the air.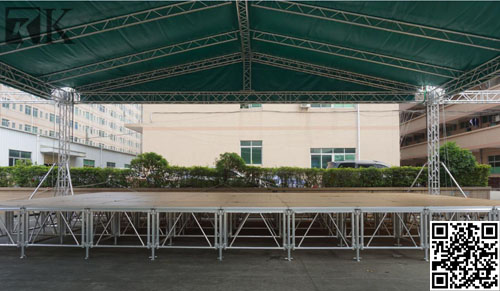 Unfortunately, this nature is also the reason why the security measures surrounding the setup of aluminum stage trussing should not be neglected as one mistake may result in accidents, injuries, and even death. In order to avoid and prevent misfortunes related to such, it's important to know how you can ensure stage trussing safety.
If you need a stage truss system, if you are interested, please feel free to contact us, more information or solutions or design will be sent to you soon.
Please contact Cassie
Whatsapp : +8618575517531
Email: sales03@raykevent.com