RK the pipe drape manufacturer helps create amazing events
time:2018-11-20
editor:R-grafen
At RK the event company, we're here to help you create absolutely AMAZING events with our selection of premium-quality pipe and drape supplies, elegant backdrop kits, and other event decor.
With our pipe and drape kits and accessories, you'll have an easy way to transform the look of any space. Divide a room, cover a wall, or create a stunning focal point. Turn an ordinary setting into a scene straight out of a fairy tale. Plus, it's portable, reusable, quick to set-up, and easy to take down after the event. That means you can use our pipe and drape to create temporary displays that can be set-up in tons of different ways, and in tons of different places. Changing the look is as easy as changing the drapes!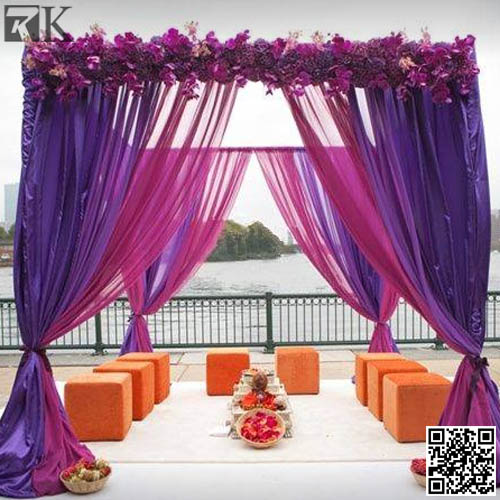 We also carry an assortment of other event decor that is designed to elevate your space to the next level. Take a look at our Ceiling Drape Kits, Crowd Control Stanchions, and Table Linens for inspiration! As one of the largest manufacturers and distributors of pipe and drape supplies, you'll find that we have the look you need at a price you'll love. So whether you're searching for photography backdrops, wedding drapery, room dividers for your church or place of worship, pipe drape photo booth, or you're filling up an expo space with pipe and drape trade show booth, we'll help you make any space look amazing!
If you have any questions regarding our products, please don't hesitate to contact us. We look forward to helping you find what you need to create the event of your dreams! Perfect Decoration Piece - An eye-catching, professional grade backdrop to perfectly pull together any theme and transform any room into a setting for parties, special occasions or business events.
Generous Coverage - Covers 8 to 10 feet of floor space and is 7ft 10in in height (fixed)
Portable - Pipe and drape components break down for easy transport and convenient storage
No Tools Required - Portable pipe and drape kit contains all the hardware needed for easy setup, no tools required
Best regards,
Jack
sd306@raykglobal.com
skype:event1305
Mobile:+ 8615712113180