wholesale pipe and drape(RK-TS916 /9'-16' Adjustable Upright
Pipe&drape ( Hot selling size)
RK-TS916 9' - 16' Adjustable Upright,Two-Piece pipe & 6" pin & screw

RK PIPE AND DRAPE KITS / SYSTEM USE FOR EVENT/ WEDDING/ HOTEL

1) Drape – available in a host of colors and fabrics; can be accessorized with tie-back sashes
2) Header/Horizontal – valance sleeved onto an adjustable horizontal support
3) Telescoping Uprights – unique slip-lock feature easily locks when pole is raised or lowered
4) Base – the foundation of pipe and drape; weight depends on style of drape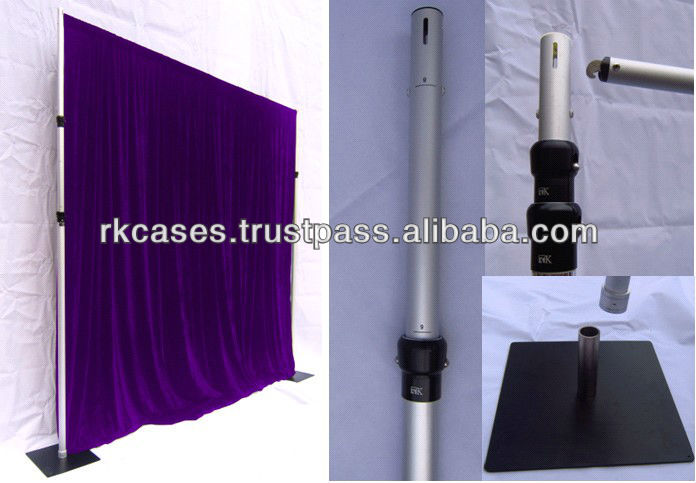 Applications
* Trade Show - establishing a trade show booth system.
* Places of worship - ceremonies and performances.
* Colleges and schools --For sporting events, class reunions, and a variety of school related functions.
* Wedding halls - Backdrops behind the head table, and often the surrounding walls as well.
* Businesses - Hide construction on their premises, or to re-enforce corporate colors wherever they go.
* Photographers - Background of photo shoots, or to make a portable photo booth enclosure.
* Hospitals - Create private dressing rooms for patients waiting to go to their room.
RK offers affordable wholesale pricing on our back drop kit and accessories.
You can also contact us directly by: