40% Off! RK releases a new year promotion, if you are finding portable stage, it is your great chance for you to own your portable mobile stage with lower price during the new year promotion.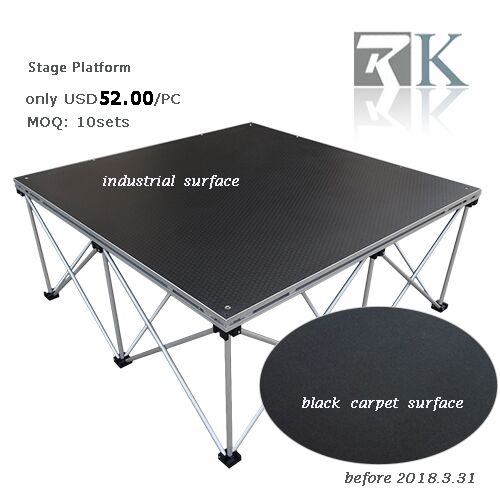 1, 1m×1m industrial surface stage platform/black carpet surface stage platform - USD52.00/PC
2, 40cm high stage riser - USD28.00/PC
3, 60cm high stage riser - USD30.00/PC
* Each platform can bear weight up to 1873 lbs oer panel.
* MOQ: 10sets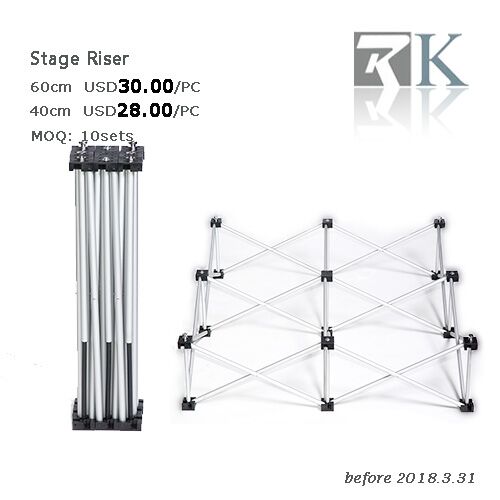 Consisting of modular, lightweight and that can be combined to create in various heights and configurations. The smart stage is easy install, innovative, lightweight but strong. Easily assembled by a single person, each and are fastened together using our unique internal locking system.
The stage with stage backdrop kit is created to meet your performance needs and to make lives easier. Perfect for schools, houses of worship, hotels, event organizers and more, are the ultimate in portability and convenience.
Please note that this Sales Promotion end by 31th,Mar.2018. Any requirements, welcome to contact our RK sales team! May the universe bless you in surprising and joyful ways. Happy New Year!