Self-adhesive portable black & white dance floor
Our portable dance floor decals will transform any dull floorspace into the ultimate centrepiece or focal point in any ballroom or dancing floor. They're great for a variety of events including: weddings, parties and other special occasions.
The self-adhesive portable black & white dance floor decals are simple to use and can be applied to any hard flooring. Finished in an anti-slip, anti-scuff laminate to keep them looking great, for longer!
RKW-DFP4x4NWⅢ

White glossy finish panel - 1.22×1.22m dance floor (30mm thickness)
Hole-less material:plywood and aluminum frame. surface without hole.
Load capacity is 750kg per square meter

25

RKW-DFR4x4(BX)

dance floor edge ( Bevel) aluminum material

8

RKW-DFR4x4-S

dance floor edge (Straight) aluminum material

12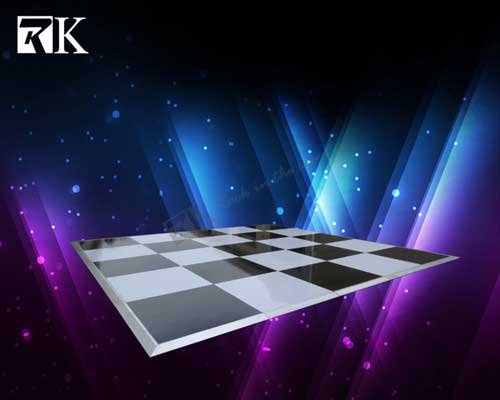 Our dance floor decals are:
Custom made
Laser cut for precision
Self-adhesive
Anti-scuff and ant-slip
Suitable on short pile carpet and any type of hard flooring
We can create almost any shape you ask for. Although, there is a printing size limit of 2000mm × 1200mm per floor graphic. There is no problem if your requirements are larger than this, as we can simply tile sections of your graphic. See the full floor stickers range.
If you have your own design ready to print, great! We can match pantone colour references to create your own custom dance floor decal. Give us a call to find out more.
Jack
sd306@raykglobal.com
Skype:event1305
Mobile:+ 8615712113180
You can also contact us directly by:
Black & White Dance Floor
more