Using RGB dance floor for event decoration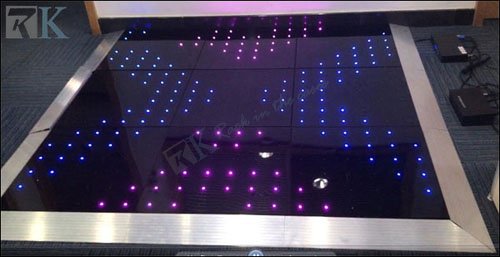 This RGB dance floor from RK, it is a 30mm Acrylic RGB dance floor, can be used to event/wedding/party decoration. The dance floor bearing capacity is as high as 750kg.square meters, with advantages of easy to install and dismantle.
As a manufacturer of portable dance floor, RK has more than 10 years experience in producing dance flooring, we are sure that our new design will meet client's demands. We can provide not only high quality but also very competitive price.
RGB Effects:
Red and Green twinkle, Blue and Green twinkle, Blue and Red twinkle, Red, Green, Blue auto
Red, Green, Blue fade, Red and Blue fade, Red, Green, Blue, Yellow, Purple, Cyan, White,7 colour fade
Twinkling with a choice of settings/ speeds
Static all on
Off
RK will always take great pride in our LED dance floors; after every use they are polished by hand to ensure that they keep their sparkle and look spectacular when laid at your venue and event. Our starlight dance floors are load bearing, water resistant and made from non-slip acrylic plastic. They all have a low profile so your guests will have no difficulty getting on and off it. The special locking system ensures that the panels cannot come loose during your event.
Our fully trained and smartly dressed uniformed staff will deliver, set up and remove the dance floor after the event by dealing with the venue direct and keeping you up to date via email, so you don't have to worry about a thing.
With the unique design of the dance floor, typically a 16ft ×16ft dance floor can be laid in 35 minutes allowing it to be laid as the room is being turned around at a wedding reception if required, In the past we have also laid the dance floor as an aisle for the bride to walk down.
Jack
sd306@raykglobal.com
skype:event1305
Mobile:+ 8615712113180
www.raykevent.com
You can also contact us directly by: