Christmas Decoration Pipe Drape
time:2017-12-26
editor:R-grafen
Merry Xmas to you all! Today our pipe drape decoration brings you meaningful festival.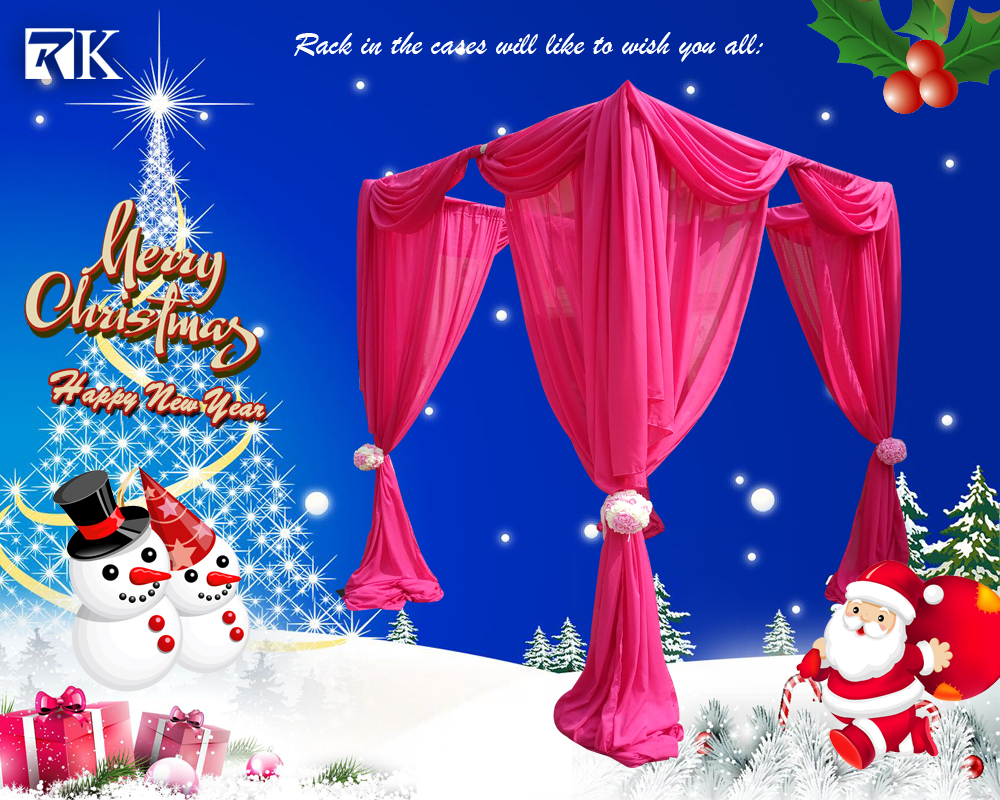 Adjustable Pipe stand with slip-lock design, always set up amazing projects, like divider room, exhibition booth system, wedding hall, dressing room, banquet background, etc. Pipe and drape kits
can also build beautiful Christmas tent for you. Contact Demi (Email:sales01@raykevent.com) to work out professional event solution for you.

A normal square canopy assembly is built by 4pieces telescopic upright, 4 pieces adjustable crossbar and 4 heavy bases pins, and colorful fabric. When we talking about Drapes, there are many different styles: swag, pleats, ceiling may come into our mind. Indeed drapes decorate all events in different colors and styles, that's also why drape is an essential decoration part.

Look at the available choice of poles/pipes. I guess that you may doubt on the upright with 2-section, 3-section. In daily ornamental event backgrounds, especially height less than 14'(4.27m), we normally use 2-Piece Upright
and 18x18''base. While for more than 14' wall decor, 3-section pole and more heavier base should be used, which ensure item sets prevent from falling down.

These poles and telescoping drape supports the set is also very easier to set-up, watch more details from this video link:
https://www.youtube.com/watch?v=bwxzO1kxM2s
, why do you still hesitate?
Part#No.

Description

Two Piece Upright with Pin & Screw

RK-TS35

3' - 5' Adjustable Upright,Two-Piece pipe & 4" pin & screw

RK-TS47

4' - 7' Adjustable Upright,Two-Piece pipe & 4" pin & screw

RK-TS58

5' - 8' Adjustable Upright,Two-Piece pipe & 4" pin & screw

RK-TS610

6' - 10' Adjustable Upright,Two-Piece pipe & 4" pin & screw

RK-TS712

7' - 12' Adjustable Upright,Two-Piece pipe & 4" pin & screw

RK-TS814

8' - 14' Adjustable Upright,Two-Piece pipe & 4" pin & screw

RK-TS916

9' - 16' Adjustable Upright,Two-Piece pipe & 6" pin & screw

RK-TS1018

10' - 18' Adjustable Upright,Two-Piece pipe & 6" pin & screw

RK-TS1120

11' - 20' Adjustable Upright,Two-Piece pipe & 6" pin & screw

RK-TS1222

12' - 22' Adjustable Upright,Two-Piece pipe & 6" pin & screw

RK-TS1324

13' - 24' Adjustable Upright,Two-Piece pipe & 6" pin & screw

RK-TS1426

14' - 26' Adjustable Upright,Two-Piece pipe & 6" pin & screw
Part#No.

Description

Three Piece Upright with Pin & Screw

RK-TS511

5' - 11' Adjustable Upright,Three-Piece pipe & 6" pin & screw

RK-TS614

6' - 14' Adjustable Upright,Three-Piece pipe & 6" pin & screw

RK-TS717

7' - 17' Adjustable Upright,Three-Piece pipe & 6" pin & screw

RK-TS820

8' - 20' Adjustable Upright,Three-Piece pipe & 6" pin & screw

RK-TS923

9' - 23' Adjustable Upright,Three-Piece pipe & 6" pin & screw