What Is Pipe And Drape System?
Pipe and drape system are composed of uprights, bases, crossbars and fabric drapes. Uprights are usually manufactured from aluminum that is usually lightweight but compact-resist. Uprights and bases are connected to make the structure stand up. Bases are usually made from steel that keep the whole structure stable. The weight of base varies a lot ranging from 6 to 62 lb according to real needs. Fabric drapes are usually made from flame resistant material. They are usually supported by crossbars which can slip into the rod pockets in the drapes. At each end of the crossbars, a hook is used to fix onto the slots of the uprights. Thus a whole structure is finished. Pipe and drape systems are now widely employed in expo and exhibitions, sports, performance and other activities and ceremonies. This is because these movable backdrops are not only easy to install and transport, but also available in different colors and sizes for various occasions. These products, in addition, can also help users save a lot of money when they have to divide a space or make certain decorations. Pipe & Drape for sale in uk, canada, california, los angeles, chicago.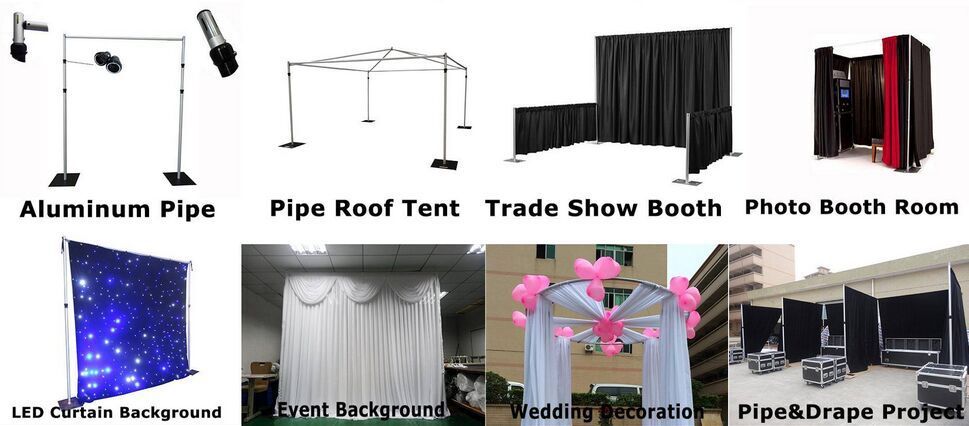 Why are pipe and drape so popular?
1. Pipe and drape is time and money saving!


For people who often hold events, pipe and drape are essential, especially when they are displayed in different colors. Of course, different occasions need different atmospheres. For example, white and other nicely colored drapes are ideal options for wedding. Of course, users can save a lot of money if they just change the draperies and the hardware is still kept. And the whole installation and dismantlement procedures can be finished within minutes. Time and money–saving!



2. Pipe and drape makes life much better


Pipe & drape can be used as decoration and make people's life much better. Of course, in other cases, they can also be used to attract people's attention when they are perfectly decorated. These products are usually employed in hotel, wedding or other events that are in need of special decoration. Life is much better with them.



3. Pipe and Drape makes work so simple!


Pipe drape are composed of several simple parts, like uprights, bases, crossbars and draperies. The structure is so simple that people can learn and install them quickly. During the whole installation procedure, only a screwdriver is needed to fix the screw and pin. Just in the same way, users can dismantle them within minutes. Of course, the special design allows they can be stored in very small box or flight cases. Storage and transportation become much easier as a result.



4. Pipe and drape can be used to divide room at your willing


In some cases, pipes are not just used for decoration, but also used to divide room. This is very common in school that always has large space, but only a small one is needed. On this occasion, pipe and drape can be used to create a smaller but more vivid atmosphere.
Why Pipe and Drape system for sale from RK?

Advantages of RK's pipe and drape


Users of pipe and drape may often encounter such awkward situation in which they do not know what to do or how to do. The uprights have two parts- the upper and the lower pipe, which are connected by the middle lock. However, the lower pipe is usually very tall. This makes installation a little bit difficult, especially when the drapes are hanged. In other cases, the length of the pipe will make transportation and storage very inconvenient.
You can also contact us directly by:
Pipe And Drape System
more