Pipe and Drape for Stage Backdrop Curtain
Using pipe and drape is one of the fastest, easiest ways of creating spaces and hiding areas. If you want to create a smaller space inside a larger one or make booths for trade or exhibition shows, we have all you need here (RK-We Can Design Your Special Occasion). Multiple heights for uprights and multiple lengths for cross pipes, not to mention so many color choices. Don't forget to put nice draping on your platforms and tables. Give it a nice professional look.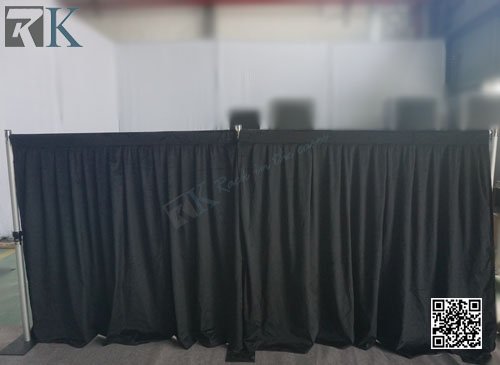 This Kit includes the following products:
1) Wedding pipe and drape 6-10 ft/7-12ft/8-14ft--event for indoor or outdoor;
2) Wedding stage 30 ft by 30 ft-35ft by 35 ft-40 ft by 40ft;
3) Wedding dance floor 20ft by 20ft-30 ft by 30 ft-35 ft by 35 ft.
RK pipe and drape wholesale provides the most distinctive, elegant and sophisticated event and party needed quality pipe and drape in the America market, south Africa market, North Africa market, Europe Market throughout whole world. It is our passion to provide the highest level of, customer service, event pipes and products for your amazing event.
Visit one of our locations in shenzhen china to experience the RK wholesale pipe and drape difference!
For more details to inquire stage for asking price, contacting me by below information.
Jack
Email: sd306@raykglobal.com
Skype:event1305
Mobile:+86 15712113180
You can also contact us directly by:
Pipe And Drape System
more