Drapery Panels For Pipe and Drape System Use
Drapery Panels For Pipe and Drape Use


Specifications
Aluminum Pipe and Drape Drapery Backdrop
1.Backdrop drapery
2.Pipe drape curtain
3.Flame resistant drapery
4.Variety Curtai
Large Stage Decoration High Quality Drapery Backdrop
Hot sale Drapery Panels, stage drapery, wedding backdrop,drapery backdrop.
Any size can be made.
Multi-usage of Drapery Backdrop: use for stage backdrop, trade show booths, wedding, schools, convention centers, casinos, museums, resorts, exhibit booth, event,etc.
Materials Drapery Backdrop:
Poly, Silk, Chiffon, Crepe Chiffon, Velour, Pleuche, Hemp Soft, Mantle Yarns,etc.
Curtain Fabric Drapery Backdrop Color:
Bright Red, Pink, Yellow, Blue, Green, Black, White, Coffee, Grey,etc.
BANJO Cloth Drapes:
60" wide* 144" high for 12' high back wall
60" wide* 120" high for 10' high back wall
60" wide* 96" high for 8' high back wall
60" wide* 72" high for 6' high back wall
60" wide* 36" high for 3' high back wall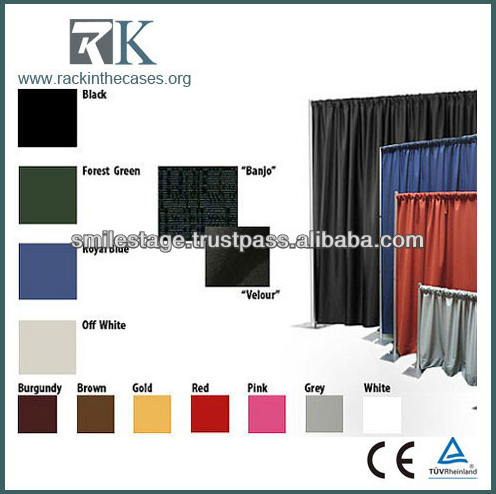 Telescopic Drape Supports-Crossbar for Drapery Backdrop:


Adjustable Uprights with slip-lock collar
Upright material: Aluminum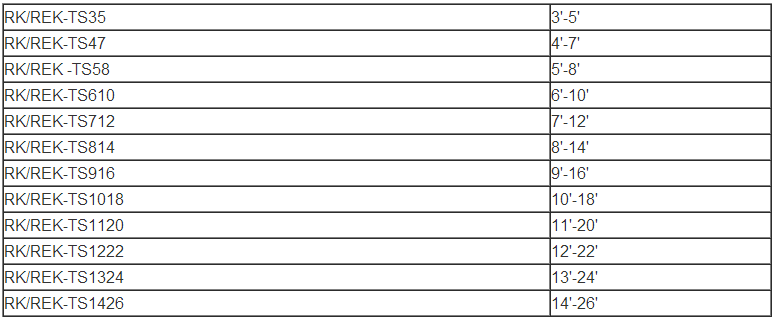 RK Pipe And Drape Basement
Rust resistant high quality sprayed paint base plate. A wide variety of sizes can be chose.
Base plate Sizes:
Black Powder Coated Bases:
1.RK-B814-316-BK: 8" * 14" * 3/16"
2.RK-B1416-316-BK: 14" * 16" * 3/16"
3.RK-B1818-316-BK: 18" * 18" * 3/16"
4.RK-B2424-316-BK: 24" * 24" * 3/16"
5.RK-B1818-516-BK: 18" * 18" * 5/16"
6.RK-B2424-516-BK: 24" * 24" * 5/16"
Special Base Plate:
1.RK-B2637-316-BK: 260*375*5mm
2.RK-B4242-316-BK: 420*420*5mm
3.RK-B5050-316-BK: 500*500*5mm
4.RK-B5063-316-BK: 500*630*5mm
5.RK-B5050-516-BK: 500*500*8mm
6.RK-B5063-516-BK: 500*630*8mm
7.RK-B5050-38-BK: 500*500*10mm
8.RK-B5063-38-BK: 500*630*10mm
Pipe and Drape Set
Specification:
1. Easy to install,stable and durable.
2. Multi-usage: use for stage backdrop, trade show booths, wedding, schools, convention centers, casinos, museums, resorts, exhibit booth, event,etc.
3. Adujustable size for different needs.
4. Flame resistant drapes can be chose.
5. Different kinds of shapes can be set up as customers' requirement.
Description of Goods:
Pipe and drape, mainly use for all kinds of events, parties, model shows, music hows, fashion shows, and other structures need to meet a variety project.
Our standard of a unit pipe and drape is two upright, one crossbar, two basements and one drape.
Round Circle Crossbar: Diameter 2m/2.5m/3m/3.5m/4m
The area of drape will be max height and max width.
1. Upright and hardware accessories(different length of upright for your option)
Uprights are usually manufactured by Aluminum, which is lightweight and compact-resist. Uprights and bases are connected to make the structures stand up.
Bases are usually made from steel that keep the whole structure stable.
2. Crossbar is adjustable
The weight of base varies a lot ranging from 6 to 62 lb according to needs. Fabric drapes usually made from material of flame resistant.
3. Drape(flame resistant drapes of velvet/flax tow/pleuche)
Pipe and drape are now widely using for all kinds of events, parties, model shows, music shows, fashion shows, and other structures.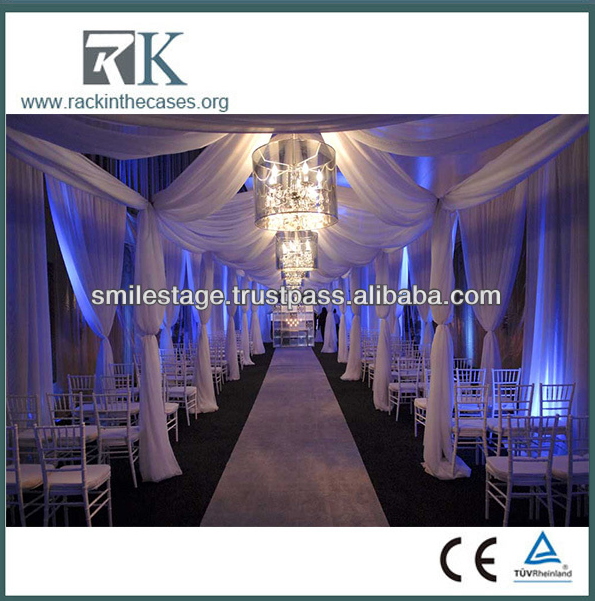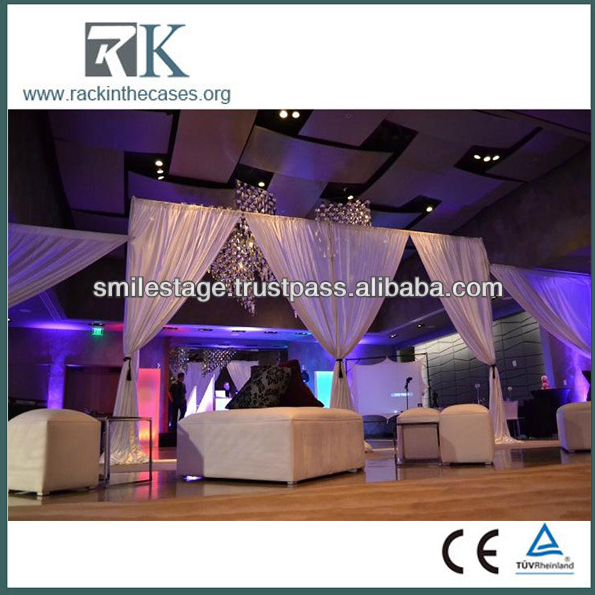 You can also contact us directly by: