A beautiful space backdrop - pipe and drape system
time:2017-12-18
editor:R-grafen
RK event company has been a leading supplier to many weddings and special events for over 16 years. Our satisfied customers include Caterers, Florists, Event Planners, Universities, Hotels, Country Clubs and other Rental Stores. Currently, we have a 15,000 sq ft warehouse located in Shenzhen China Guanlan area. We have an extensive inventory of Pipe & Drape, led drape, Stages, Dance Floors and much more. We pride ourselves on providing the highest quality, reasonable prices and the absolute best service known in the industry. The entire staff at RK Event is committed to satisfying our customers......Every time!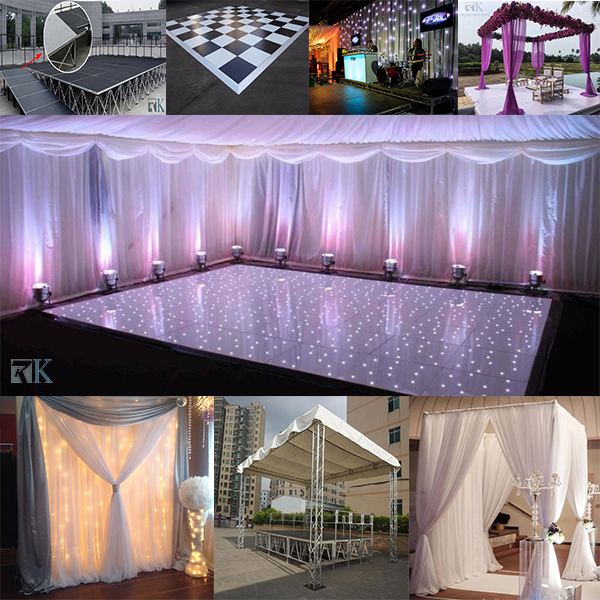 Pipe and drape is a process of dividing, hiding, or decorating a space temporarily with removable drape panels on a horizontal support frame. Draping covers up distracting or less appealing walls or windows and creates a beautiful backdrop for any space.

We carry a large inventory of Pipe & Drape to service any size trade show, gala, wedding show or just a simple back drop.
Trade show setups for 8-foot high drape with 3-foot high booth dividers. 7-12-foot high adjustable drape is an option for those larger areas you need covered.
We also can supply large amounts of event carpet for 6-foot wide aisles, large quantity of tables, chairs and tablecloths are also available
Contact us today for a quote! For a quicker estimate, have a rough floor plan available.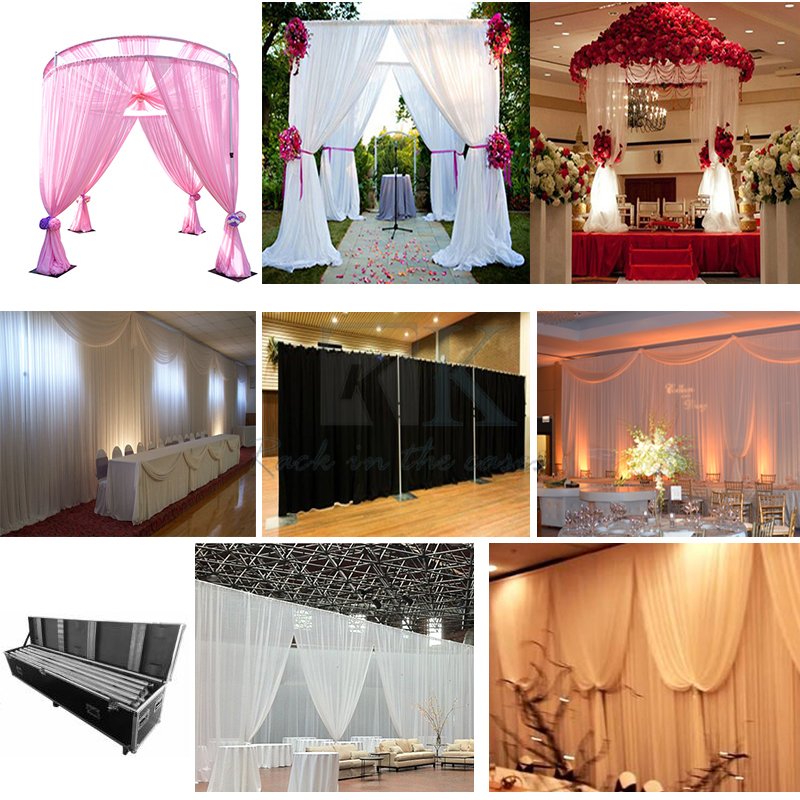 Unless otherwise stipulated, the per foot pricing is based upon the industry standard 10' wide-8' high sections with 4 banjo cloth panels per adjustable 10' section with necessary uprights and bases. Applies to both the 8' high (back wall) and the 3' high (side rail) booth dividers.

Pipe & Drape System
1. Slide cloth pocket on to the spreader.
2. Place upright pole on base.
3. Hook spreader in to upright pole.
4. Repeat configuration in any direction.

Some of the options available as part of our draping services are:
1. Ceiling Treatment/Drapes
2. 4-Post Ceremony Arch
3. Color and Material Options
4. Custom Swag Drapery
5. Divisions/Partitioning
6. Drapery Lighting

Our website: http://www.raykevent.com
Pinterest: https://www.pinterest.com/raykevents/