RK Iron Frame Foldable Stage platform wholesale
RK Iron Frame Foldable Stage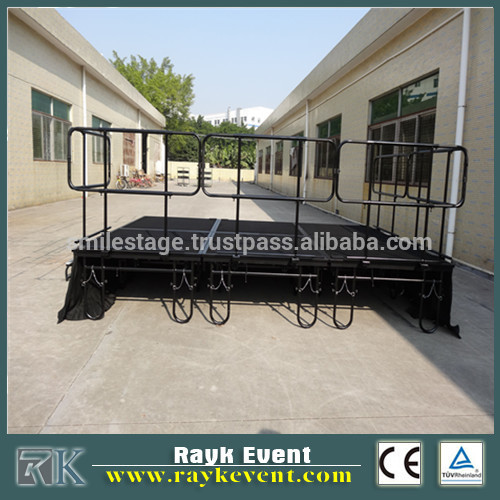 Specification:
1.Easy to install
2.Material: Aluminum/Iron frame,Plywood platform
3.Surface Treatment: Carpet,Rubber,Paint,Non-slip industrial,Plexiglass
4.Hight range: 40-80cm
5.Platform Thickness:18mm,30mm
6.Environment-friendly made
Advantage:
1,RK portable stage is movable,portable,deluxe,folding but strong ,reusable and security.
2,Smart modular design allows you to use the same stage for all your needs and change the size,height and shape as you need.
3,It's very easy to build a beautiful portable smart stage by any single person.
4,Widely used in many different events,shows,conference.competition,exhibition and so on
Smart stage platform:
1,Durable,modular stage can stand 185 lbs./sq.ft(1000kg/sq.m)
2,Different regular shape in square/square folding/triangle/quarter round/step platforms
3,30mm thickness high quality plywood with carpet/tuffcoat/industrial finish
4,Industrial is the traditional material for stage. It could be used indoor&outdoor.
5,To fix platform with aluminum frame
6,Standard size:
European type--1mx1m,1mx2m,1mx0.5m,0.5mx0.5m,0.3mx0.3m.
American type--3'X3', 4'X4'
Smart stage riser:
1.High quality folding technics with aluminum tube,copper tube and ABS plastic base
2.Height:
European Type: 0.1m, 0.2m, 0.3m, 0.4m, 0.5m, 0.6m, 0.7m, 0.8m, 0.9m,1m, 1.2m
American Type: 8", 16", 24", 32", 48"
3.One riser can stack on another to make another height(the highest height can not past 1.2m
Stair and Guard Rail for Folding Stage:
Folding Stage Stairs:
Size:1.2x0.36m, two steps
1.2x0.36m, three steps
1.2x0.36m, four steps
Folding Stage Guard Rail:
Width: 0.9/1.0/1.2m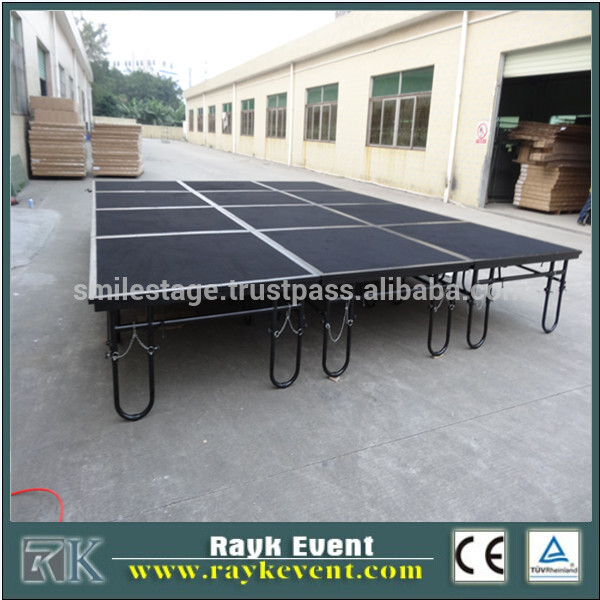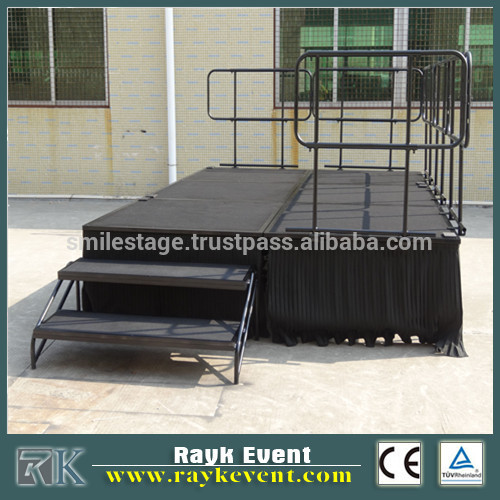 Our sales team:
We are a leading company of this stage in China, our stage is patented, also with TUV Certificate and Fireproof Certificate!
Shipping:
We offer many shipping options for our customers,we have good relationship with shipping company directly,such as APL,Cosco,CMA and so on.We can help you to save some shipping cost.
Warranty:
Anything wrong with the stage instead of man-made destruction. We supply 5 years warranty for the customers who bought products from us.
Import taxes:
We can help you reduce and avoid import taxes by declaring price lower.Should have any questions,please contact with us any time!We look forward to long cooperation with you!


You can also contact us directly by: